Fashion
There was no way I could read this post from Thought Catalog and not repost it. With Spring around the corner, and a steady rise in couples breaking up ( I'm about 90% sure it is due to the winter fling theory) this article, incredibly written by Brianna Wiest could not have come at a more perfect time.  I've honesty never read a better piece of writing on the topic. I love when Universes collide. Enjoy!
"We all start as strangers,
but we often forget that we choose who ends up a stranger too."
It's interesting to think about how we make people who used to be everything into nothing again. How we learn to forget. How we force forgetting. What we put in place of them in the interim. The dynamics afterward always tell you more than what the relationship did — grief is a faster teacher than joy – but what does it mean when you cycle out to being strangers again? Because you never really stop knowing each other in that way. Maybe there's no choice but to make them someone different in your mind, not the person who knew your daily anxieties and what you looked like naked and what made you cry and how much you loved them.
When our lives revolve around someone, they don't just stop revolving around them even if all that's left is the grief and pain that comes with their memory. Because you loved them, there will always be parts of them that linger. The memories that are impressed on the places you went and the things you said and the songs you listened to will remain. We all eventually find ourselves standing in the checkout line, hearing one of those songs come on and realizing that all of a sudden, we're revolving around them again. And maybe we never stopped.
Do you ever really forget your lovers' birthdays, or all your first times, intimate and not? Do your anniversaries ever become normal days of the year again? Are the things you did and promises you made ever really neutralized? Do they become void now that you're broken up or do you decidedly ignore them because there's simply no other choice? The mind tells you to go on, and forces your heart to follow suit I guess.
I want to believe that you either love someone, in some way, forever, or you never really loved them at all. That once two reactive chemicals cross both are changed. That the wounds we leave in people are sometimes too raw to risk falling back into them. I don't want to believe that we write each other off because we simply don't matter anymore. I know love isn't expendable. I wonder, and maybe hope, if we ever just force it to be out of that necessity.
Maybe it's just that we're all at the centers of our own little universes, and sometimes they overlap with other people's, and that small bit of intersection leaves some part of it changed; that's where we grow together. The collision can wreck us, change us, shift us; sometimes we become eternally undetachable and connected and other times we decidedly move away because the change required to accept another person's universe colliding with yours is a safety we don't want to leave. Either way, it's inevitable that your universe expands. That you're left knowing that much more about love and what it can do, and the pain that only a hole in your heart can bring. Whether or not that hole will ever again include the person who made it that way, that's for you to decide.
We all start as strangers. The choices we make in terms of love are usually ones that seem inevitable anyway. We find people irrationally compelling. We find souls made of the same stuff ours are. We find classmates and partners and neighbors and family friends and cousins and sisters and our lives intersect in a way that makes them feel like they couldn't have ever been separate. And this is lovely. But the ease and access isn't what we crave. It isn't what I'm writing about right now. It isn't what we revolve around after it's gone. We are all just waiting for another universe to collide with ours, to change what we can't ourselves. To fill us, to make us whole. It's interesting how afterwards, we realize that the storm returns to calm, but the stars are always changed and we don't choose whose collisions change us. We all start as strangers, but we often forget that we choose who ends up a stranger too.
Artist Phillip K Smith III took a 70-year old wooden cabin in the California High Desert, added mirrors to the wood structure for an art piece that gives the illusion of transparency. Named "Lucid Stead," the cabin's optical illusion is impressive both in photos and in film.  LEDs compliment the exterior during the evening by illuminating the interior.
Phillip K Smith III: Lucid Stead (Joshua Tree, California 2013) from Royale Projects on Vimeo.
On the weekend of October 12th in Joshua Tree, California, artist Phillip K Smith III revealed his light based project, Lucid Stead. What was expected to be a two day event for a handful of viewers, turned into over 400 people making the journey over two weekends. People as far away as New York City and Canada traveled to the California High Desert to experience it. Numerous media sources have asked to do cover stories on the work. Thousands of photos professional and amateur, were taken, posted and shared across blogs and social media sights. In just over 30 days, Lucid Stead officially became a phenomenon.
Composed of mirror, LED lighting, custom built electronic equipment and Arduino programming amalgamated with a preexisting structure, this architectural intervention, at first, seems alien in context to the bleak landscape. Upon further viewing, Lucid Stead imposes a delirious, almost spiritual experience. Like the enveloping vista that changes hue as time passes, Lucid Stead transforms. In daylight the 70 year old homesteader shack, that serves as the armature of the piece, reflects and refracts the surrounding terrain like a mirage or an hallucination. As the sun tucks behind the mountains, slowly shifting, geometric color fields emerge until they hover in the desolate darkness. This transformation also adapts personal perception, realigning one's sensory priorities. A heightened awareness of solitude and the measured pace of the environment is realized.
Smith states, "Lucid Stead is about tapping into the quiet and the pace of change of the desert. When you slow down and align yourself with the desert, the project begins to unfold before you. It reveals that it is about light and shadow, reflected light, projected light, and change."
Phillip K Smith III received his Bachelor of Fine Arts and Bachelor of Architecture at the Rhode Island School of Design. He draws inspiration from the reductive logic of minimalism and the optic sensation of California's Light and Space movement. Smith's innovation and exploitation of new technologies keeps these ideologies current. He was honored as the 2010 Artist in Residence at the Palm Springs Art Museum and was included in the exhibition, Smooth Operations: Substance and Surface in Southern California Art, alongside artists such as Peter Alexander, Larry Bell, DeWain Valentine, and Craig Kauffman at the Museum of Art and History in Lancaster CA. He has been asked to return to the museum for a solo exhibition opening in January 2014. He has been commissioned to create over a dozen monumental art works and his light based sculptures are collected Nationwide. Phillip will open a solo exhibition of lightworks at royale projects : contemporary art in Palm Desert on November 29 2013. His work will be featured at UNTITLED art fair in Miami opening December 1st.
For more info visit: http://www.lucidstead.com
contact: http://www.royaleprojects.com
A touch of elegance in your wardrobe
The Claudine collar is making a slow appearance in male shirts and gives an original touch because of its rounded edge. I recommend that you wear a slim or normal bow tie with it in order not to hide the collar's main feature (it's rounded edges). I can guarantee that the stylistic effect is great!
Beau Brummel in a movie adaptation wearing a pre-bow tie
These are normal-sized bow ties
A very attractive bow tie in toile de Jouy
Self-tie bow tie
If you are a fan of Monopoly, you may prefer this model:
What you need to remember to wear a bow tie:
New Year's parties are the perfect occasion to try these. Don't hesitate to share your thoughts, in writing and pictures.
Niels Peeraer's A/W 2013 collection of leather bags, caps, and headpieces draws inspiration from traditional Chinese opera. The designer, known for his story telling collections, attempts to tell the tale of a lonely boy in a beauteous set of minimalistic but palatial accessories – 'there is no limit to cuteness'.
For more information, visit www.nielspeeraer.com

The definition and form of time as an object have been upset. Since the advent of the cellphone, the watch's primary function has completely transformed. There are still many features that can make a watch a very precious item, even reaching 7 figures in price; but today, the gap is being narrowed with the arrival of a new timepiece category, a concept launched by Bissol with its Calibre 788.
This new player is taking to the market with an offbeat and innovative concept: making the iPhone 5 into a timepiece unlike any other. Bissol's Calibre 788 will be the first timepiece in the world exclusively developed for Apple's iPhone 5, yet more proof that Apple has really revolutionized the world of mobile telephony.
This timepiece accessory is attached to the bottom of the iPhone, allowing you to get the time without turning on or unlocking your phone, and by the same token letting you save battery life.
As for technical details, this Calibre 788 has a Swiss quartz movement with 5 rubies and offers a further feature, the reading of the lunar phase. Everything is made to be very similar to the iPhone's aesthetics, with anodized aluminum casing, gold, and painted sapphire crystal for both the white and black versions of the iPhone. Will future colored versions be arriving at Apple? No word on that for the moment.
Louis Vuitton is muscling in on the leopard print with an iconic video in purest pop style that celebrates the leopard spot so dear to Italian designers.
Today, we can show you the new video "Stephen Sprouse in Leopard" which takes it back to 2006 when Marc Jacobs asked famous designer Stephen Sprouse to create a collection that was fresh, pop, cool and very contemporary. This is how the famous prints were born and this time Louis Vuitton
is using graphics from the past to introduce the collection of the present.
So here is a palette of digitalized neon colors that smear across your screen with dynamism and energy. What do you think of the total leopard bag?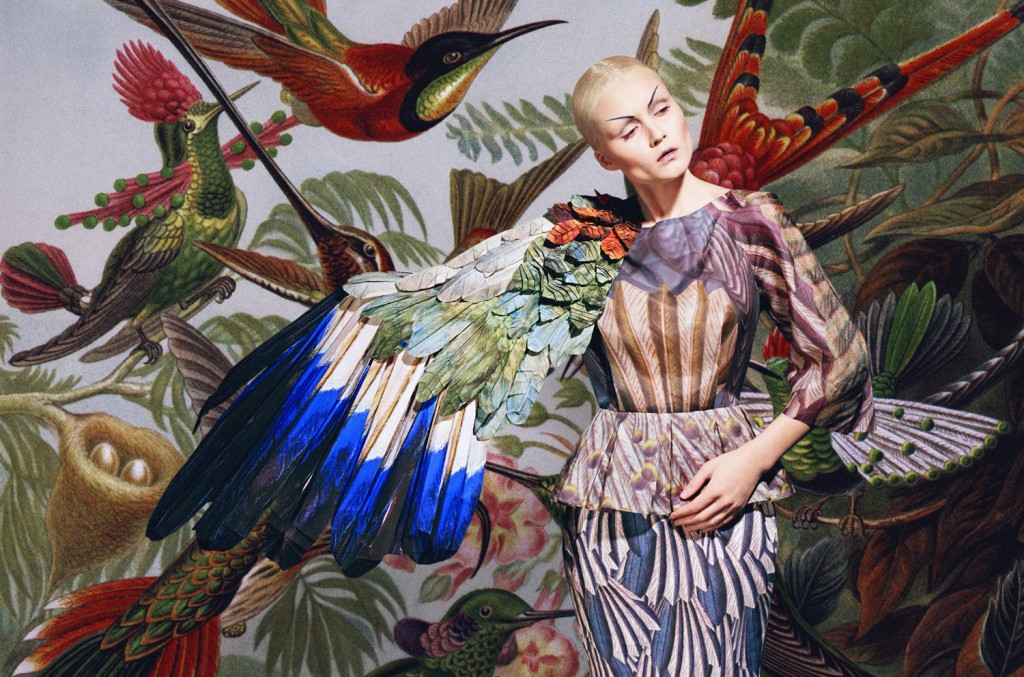 Merging is a collaboration between Masha Reva and Sychrodogs that examines our situation within the visual stream we deal with every day – the amalgamation of virtual reality and boundless information field that is the internet. A fascinating study of the superficial realities we construct of ourselves on the web …
Indeed, I find it very interesting … from one point it is related to the layering of information within our mind, from the other, it has a certain connection with print. The principles laid within are over-information, adaptation and merging in the mass of images today.

I am focused on study of a personality being transformed in the process of developing various social connections and communication. On the other hand, I look on a human element that is certainly a part of a nature. This confrontation between natural and artificial, in my opinion, is an interesting theme to analyze.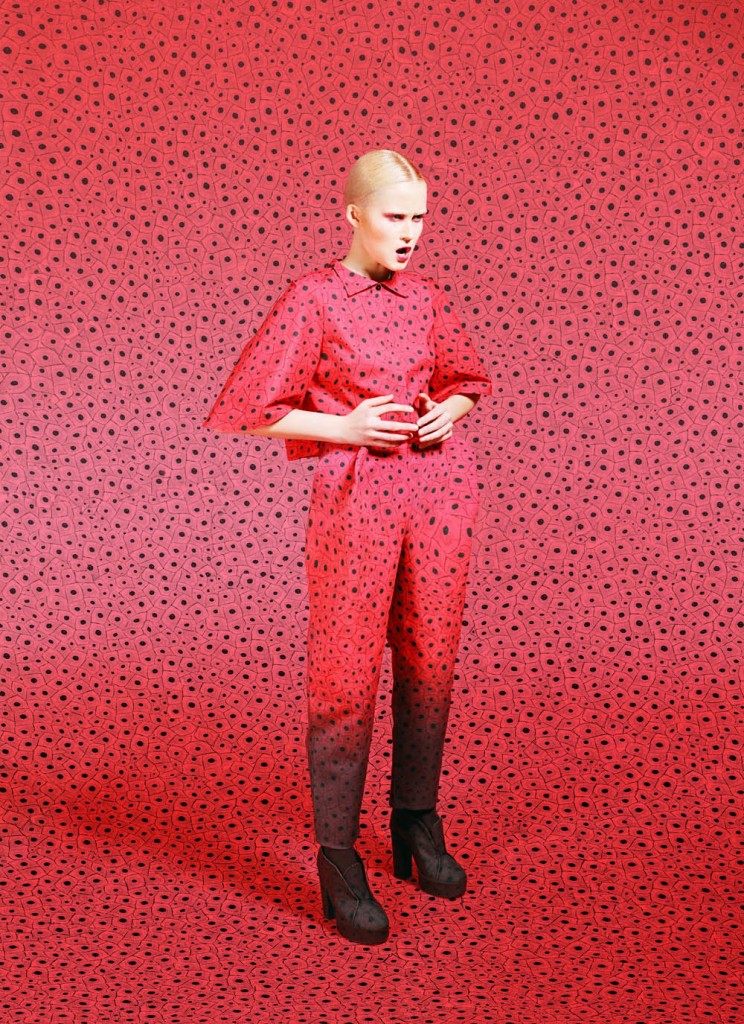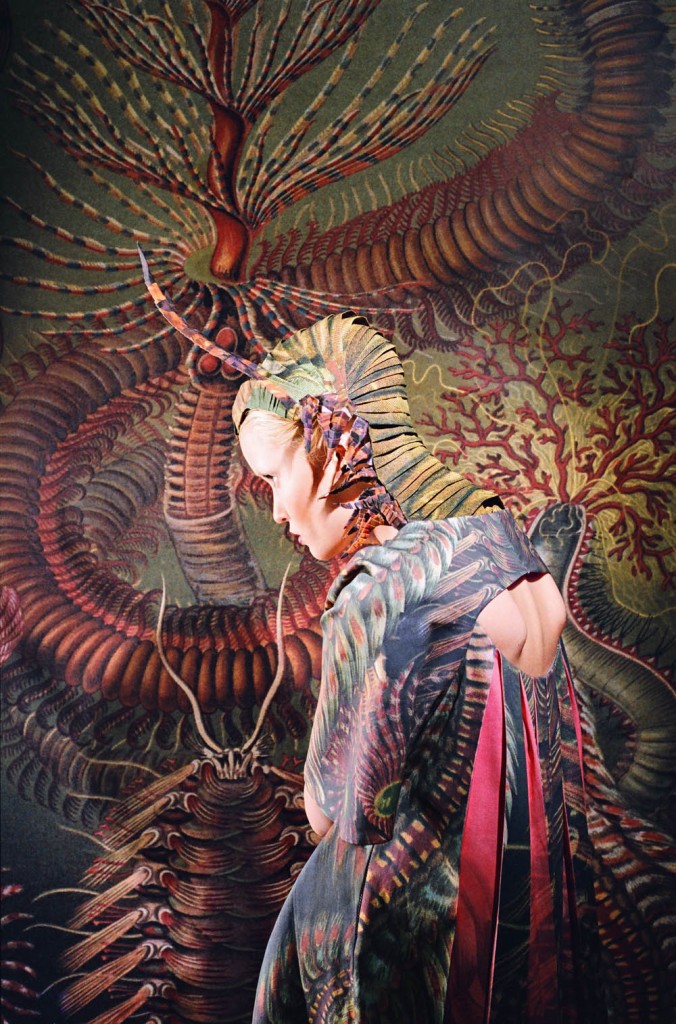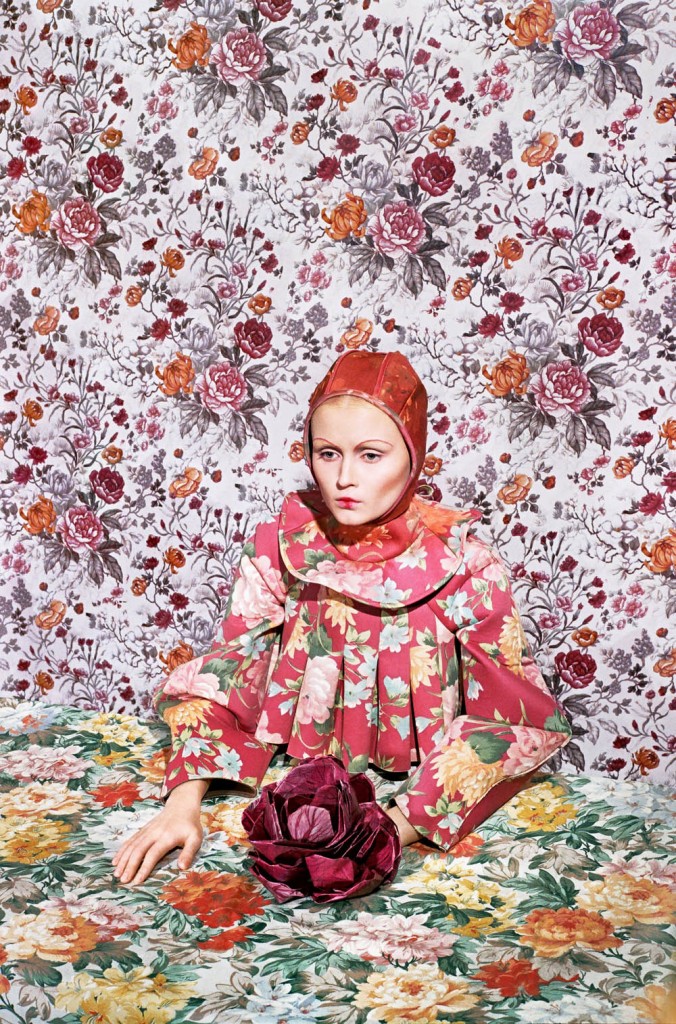 div style="text-align: right;">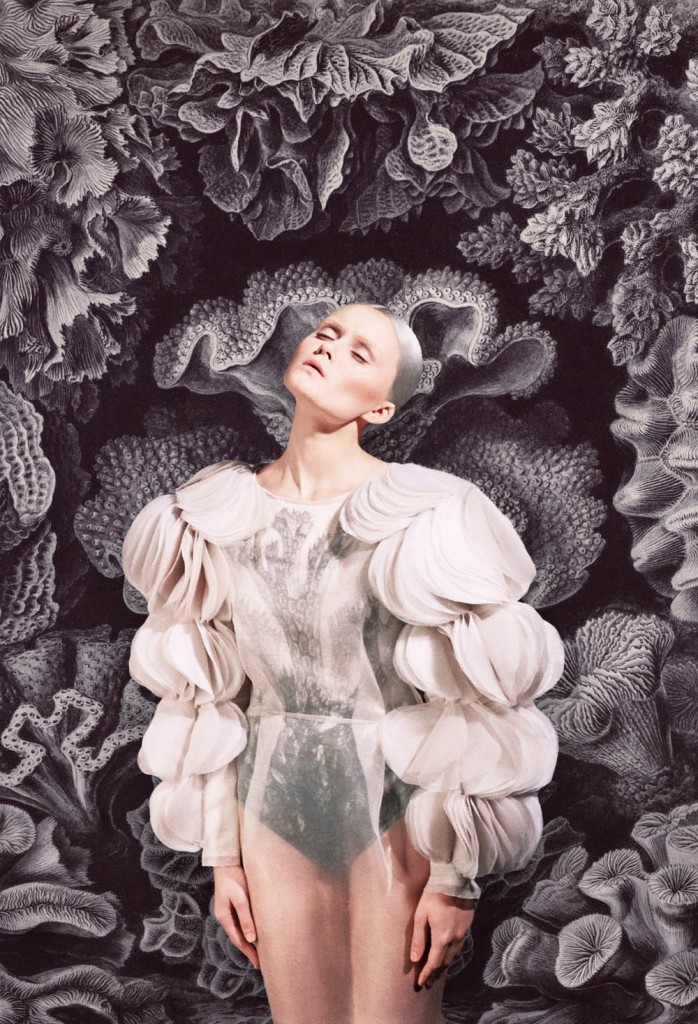 http://www.mashareva.com/main/index.php?/fashion/-/
With the lines that separate fashion and technology becoming increasingly blurred, it's no wonder the art of 3D printing is on the rise. Layer by Layer, the first of a two-part exhibition at the London College of Fashion explores the process of 3D printing within fashion. Providing an insight into the process, materials and application of the medium through a variety of designer's printed pieces, it's an exhibition that puts you very much on the fringe of the future.
For more information, visit: www.fashionspacegallery.com
Clearly Miley has transitioned her teasing technique to photo shoots, 'cause girl is dedicated to showing copious underboob and just a little bum in her latest photo spread for the May 2013 issue of V Magazine. (Side note: Only Miley could make butt crack chic.)
On her new sound: "I can never say that I don't love 'Party in the U.S.A.' and that I'm not appreciative of it. It would like my dad saying that he hated 'Achy Breaky.' It's what gives you everything that you have. I would never take it back."
On her changing style: "I'm going to change, I'm going to be different, I'm going to do what I want to do. I chopped my hair and bought a pair of Docs and never looked back."
BEYONCÉ KNOWLES is the new face of H&M, and we have the full campaign to share exclusively for the first time. The singer stars in the Swedish retailer's new high summer advertisements, modelling a series of bikinis and beachwear inspired by her individual style. The singer also gave "personal input on the pieces seen in the campaign", confirmed a representative for the brand.
The print and billboard images – which see her reclining on beach sun lounger and posing in swimwear by the sea – were shot by Inez van Lamsweerde and Vinoodh Matadin in the Bahamas earlier this year. The adverts will introduce the star: "Beyoncé as Mrs Carter in H&M" – tying in with the name of her upcoming world tour.
"I've always liked H&M's focus on fun affordable fashion. I really loved the concept we collaborated on to explore the different emotions of women represented by the four elements – fire, water, earth and wind," said Knowles. "It was a beautiful shoot on a tropical island. It felt more like making a video than a commercial."
The summer campaign features swimwear and beachwear pieces – including a bikini from the H&M for Water collection, which raises money for WaterAid. The print adverts will launch alongside an accompanying television commercial – featuring a new Beyoncé song, Standing On The Sun.
"H&M's summer campaign starring Beyoncé is an epic fantasy, with glamour, drama and also a sense of paradise," said Donald Schneider, H&M's creative director. "It was amazing to watch her on the shoot make it all look effortless – a quality that makes her such an icon for women around the world. The campaign is the essence of Beyoncé, and also the essence of H&M this summer."
It was first reported that the singer would be partnering with H&M back in January – which is when the shoot took place – after one of the star's dancers accidentally revealed the news on Twitter.